The Impact of Technology on the Human Resource Department and Its Functions
---
A first-rate human resources department can define the welfare of an organization, and to maintain a top-performing business, HR needs to keep up with the latest digital trends. With the power of new technology, HR can continue recruiting top talent, optimize productivity, and increase employee retention. By leveraging technology and data analytics, HR can gain valuable insights into their workforce and make data-driven decisions that support the organization's overall business strategy.
What Is the Process of Digitalizing HR?
The process of "digitalizing HR" involves leveraging technology to streamline human resources (HR) processes. This can include automating administrative tasks, enhancing collaboration with digital communication platforms, and utilizing data analytics to make more informed HR decisions.
There are five key steps involved in digitalizing human resource development:
Identify areas for improvement — HR decision-makers should analyze their current processes to identify areas where technology could be used to increase efficiency, accuracy, and productivity.
Evaluate and select digital tools — Once the areas for improvement are identified, HR leaders should evaluate different digital tools to find what best fits their needs. These digital tools may include human resource management systems, survey analysis platforms, recruitment software, and more.
Implement the digital tools — The HR department will need to work with vendors, employees, and IT constituents to ensure their digital tools are perfectly integrated with existing workflows.
Train employees — Employees should be trained on how to use the new digital tools effectively.
Monitor and refine — HR leaders must regularly monitor the use of digital tools to flag issues and make refinements.
How Does Technology Play a Vital Role in Developing a Well-Defined HR Strategy?
Technology plays a vital role in strategic human resources management by providing tools to help HR leaders collect, analyze, and act on data related to their workforce.
In this section, we'll break down five key elements of a successful HR strategy, and how technology can support these key elements
Recruitment
HR must focus on recruiting top talent to build a more skilled workforce and drive business success.
From posting job openings on social media, to screening resumes and scheduling interviews, HR departments can use tech to optimize their recruitment efforts. Talent analytics can be used to analyze data related to workforce demographics, recruitment sources, and candidate qualifications. Companies can also attract top talent by enhancing online branding efforts through social media campaigns, employer review sites, and video content.
Employee Retention
Luckily, there are technological solutions that can solve employee retention problems:
Identifying top performers by tracking performance data
Facilitating communication via online forums, surveys, chatbots
Enhancing employee recognition through digital rewards systems
Providing flexible working arrangements such as online, remote work
Measuring the success of retention initiatives through analytical tools
Learning And Development
Companies must invest in their own employees by teaching new skills and providing the resources to do so.
A healthy HR department can offer online learning programs, such as webinars, e-learning courses, and virtual coaching sessions. Technology can also be used to track employee participation, as well as to evaluate the efficacy of certain training programs.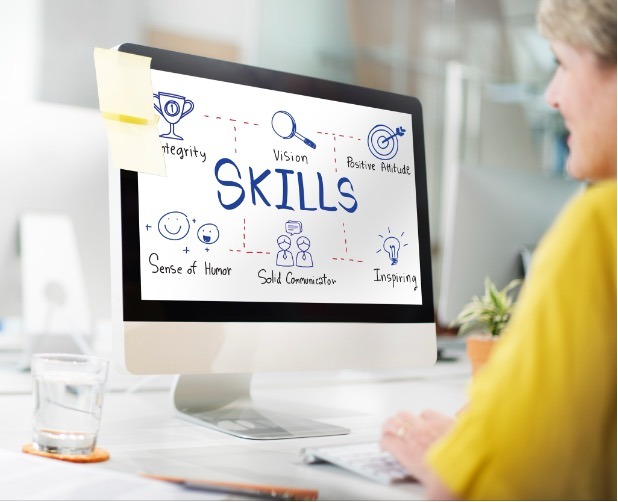 Compensation and Benefits
A well-defined HR strategy should establish competitive pay practices, offer comprehensive benefits packages, and provide incentives for high performance.
HR systems can automate routine tasks such as payroll processing, benefits administration, and data entry, freeing up human resources staff to focus on additional tasks. Data analytics can be utilized to identify trends in employee benefits usage, as well as to benchmark pay against industry standards. A well-crafted employee engagement survey can gauge how your employees feel about their compensation and benefits as well.
Diversity and Inclusion
Good organizations successfully create an inclusive culture where all employees feel respected.
Analytics are helpful in identifying areas where unconscious bias may be present, such as in hiring decisions, leading to a more diverse workforce. Technology offers many opportunities to promote inclusivity, such as diversity training programs, anonymous reporting tools for workplace issues, and accessibility accommodations like speech recognition software.
With the Advent of Technology, What Are The Future Trends of the HR industry?
Technological advances are changing human resource development permanently. HR departments must be on the forefront of these changes to meet their strategic goals. In this section, we will identify three of the biggest trends affecting the future of HR.
AI and Automation
The use of AI and automation is taking over the world, and the HR industry is no exception. AI can help streamline routine tasks, improve accuracy, and reduce bias. Without being bogged down by menial tasks, the humans on the team are able to creatively address problems within their company.
Data Analytics
The use of data analytics is also becoming more widespread in human resource systems, as it enables HR professionals to gain insights into workforce demographics, engagement, and performance. Analytics are heavily relied upon for every pillar of HR strategy, including recruitment, development, and diversity. One way for HR to gather pertinent data is to distribute surveys among their workforce.
Remote Work
The Covid-19 pandemic changed the way we work. According to a FlexJobs survey, sixty-five percent of respondents report wanting to work remotely full-time. As many organizations adopt remote work policies to support employee safety and flexibility, HR must focus on providing remote employees with the tools and resources they need to be productive
For Top Quality Human Resource Management, Try Metolius
HR departments need to stay on their game to recruit their company's next superhero, retain their top talent, and make sure an organization functions healthily. Employee surveys, applicant surveys, culture surveys, and more can provide rich data to help HR identify their next strategic move.
For a survey design platform that is cost-effective and yields sophisticated results, try Metolius.
Survey your target market !
With our personaised Survey survey your target market right away, Collect insights that matter for effective decision making
You might also be Interested in?